Brazen
Regular price
Sale price
$ 90.00
Unit price
per
Sale
Sold out
 We here at Brazen take pride in our work, and our customer service. Please read the following to help your coating process move quickly and smoothly to ensure the fast return of your parts.
All of our stippling, including the cut borders, is done by hand. The borders may vary, and the pattern look different between each frame. This will give a unique one of a kind look for your frame. If you have special requests such as where you would like the borders to be, or a custom pattern request, please contact us prior to ordering.
Our patterns in order from most aggressive to *least aggressive texture: Matrix, Cobra, Brick, Cobweb, Ivy, Maze, Honeycomb, Thatched, Prism, Carry, Starburst, Hurricane, and Microdot is the least aggressive. 
Please see below for important mailing information. 

With this pattern, the backstrap lines on later Glock models will be removed making backstraps un-usable. If you use a backstrap, we are able to mold it into the frame, just make a note at checkout. With this pattern, we will also remove your factory logo from the side of the frame.
Finger Groove Removal is where the finger grooves in the front of the frame where you wrap your fingers around are removed, making a flat surface. 
Please see this link for Index Point options: 
https://brazenfirearms.com/collections/stippling/products/stipple-extra-services
Please see this link for Undercut Options: 
https://brazenfirearms.com/collections/stippling/products/stippling-undercut-options?variant=31646523981897
SHIPPING OPTIONS:

1) Send directly to us. Firearms and registered parts are not able to be mailed via USPS. Please use UPS (preferred) or FedEx. Please include a copy of your ID, and your order number. We strongly suggest to include a copy of our FFL which can be printed off here. If you are unable to print off a copy of your ID, please email it to us at brazenfirearms@gmail.com along with your order number. Return shipping to you will be to the address on your ID via UPS signature required, unless you are an FFL. 

2) Contact a local FFL and have them send us your firearm/registered part. Upon completion, we will send the parts back to them. 
3) Use shipmygun.com. They provide you with a UPS shipping label at a discount, you send your frame directly to us using that label and we ship your frame back to you. 
*This scale is based on how the Glock polymer melts when stippled. Note that any other frame/module such as SiG, P80, S&W, Lone Wolf, Ruger, HK, Beretta, and Magpul grips melt much differently and we recommend nothing higher than Prism on our scale for those models.
Share
View full details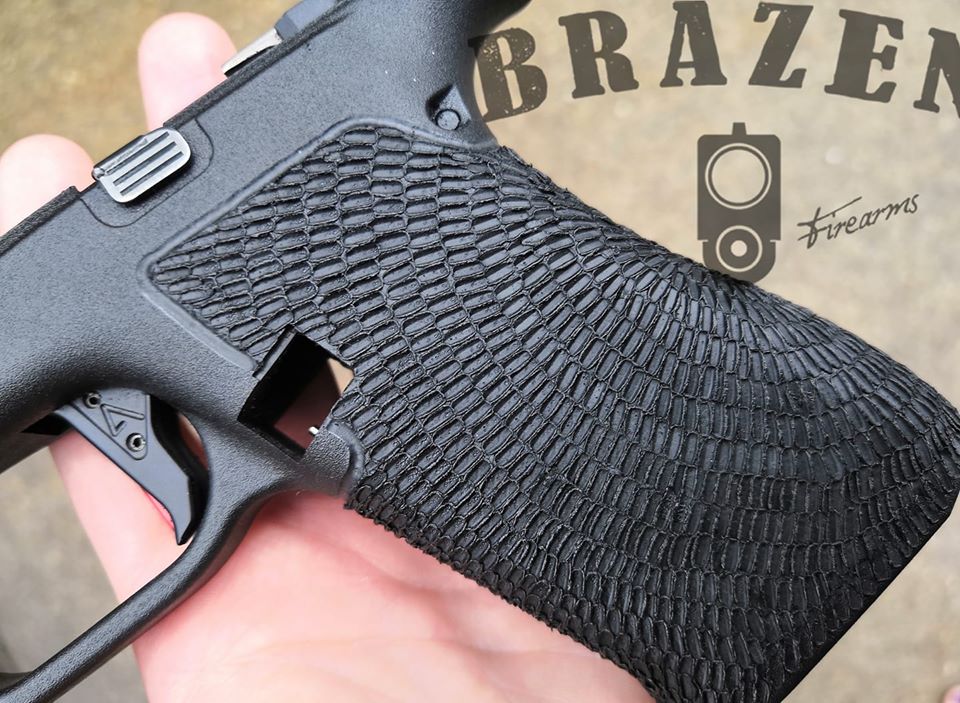 "Awesome work and customer service."
David Jakab